I'm featured today at: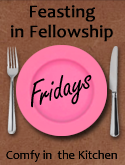 Look for my Strawberry-Banana Pop Recipe!
_____________
And you can also find me at:
I've written a guest post titled, "The Word Trumps Food."
And... you'll find an awesome giveaway bundle at The Better Mom too!!


Are you here to say hello? Sorry that I don't have comments on this blog,
but you are always welcome to visit my facebook page at: http://www.facebook.com/timewarpwife and join in discussion there.
You are loved by an almighty God,
Darlene
For comments or questions, contact me at:
darlene[at]darleneschacht.net
Find Time-Warp Wife on facebook:
Click here
If you would like to have Time-Warp Wife delivered to your inbox daily, simply click here: Subscribe to Time-Warp Wife