Weekly Contributor, Kim Brenneman
Not that you should be flashy and flamboyant, elegant and opulent, but dinged up and dingy is an eye sore. Look around the common-area of your home. Do you like how it reflects your family?
In recent years my family was busy with a medical crises, a high-needs baby, starting a goat dairy business, and just plain old real life with a bunch of kids. Maintenance of the house was taking a back seat to everything else. Then my sister got married. On our farm. We have a pretty farm so it should have been no big deal, right?
Here's an exercise for you:
Get in your car and drive away and then drive up to your house not like it's your house but like you are a guest arriving at a wedding.
Or simply walk outside and then walk up to your house like you are a guest. Open the door and pretend you are a guest.
What do you see first?
Where do your eyes land?
What does your house smell like?
What do you hear?
Your home is a reflection of who you are as a family. The good, the bad, the ugly.
Before my sister's wedding on our farm our eyes were opened anew to what our place looked like. And it looked like a lot of busy people lived here. We saw that we hadn't done much home maintenance in the last few years. Parts of our landscape were overgrown and parts were empty because whatever was there originally died. The wallpaper in the kitchen hadn't survived the last five children very well and was way beyond another repair. Walls hadn't seen fresh paint in years. It was dinged up and dingy but we were so accustomed to it that we didn't notice.
We spent last spring sprucing the place up. It was fun working together as a family towards a fun and beautiful event. When it came time maintenance inside and for redoing the walls inside I wanted everything clean and bright, Spartan, Quaker. As the song goes, "Tis the gift to be simple, tis the gift to be free..." My life is full and I don't want any unnecessary clutter. That is a reflection of who I am right now in life.
I want my life full of experiences and events with my loved ones, not taking care of material stuff.
Nine people currently live in my home, sometimes eleven. Add family and friends on the weekends and it's full. The common life for us is full of good times, food, games, laughter... The furniture is minimal, the walls are still bare after the painting last spring. My goal is to give thought on what I want on the walls. What says faith and family, hope, love, and life?
In Deuteronomy 6 God instructs the Israelites:
"Hear, O Israel: The LORD our God, the LORD is one. You shall love the LORD your God with all your heart and with all your soul and with all your might."
God gives them several instructions on what to do with these words and says this in verse 9:
"You shall write them on the doorposts of your house and on your gates."At the very least, when a person comes to our home, they should be able to immediately sense that followers of the LORD live here, that they love Him, they love each other, and they love others.
We can do this in outward signs with the art that we put on our walls. I have free-hand painted verses on our walls and recently ordered lettering from
fruitfulvinecreations.com
. We can create photo displays of family and friends and the love we share. We can hang beautiful paintings and drawings and arrangements that represent and interpret God's creations. The view from our windows can direct the eye to the beauty of God's world outdoors. We can change that view with our landscape design using God's trees, bushes, and flowers.
Beyond wall art we must give thought to the music that is playing in the background of our homes. Last week I was listening to upbeat catchy music on Pandora while I was doing some work and realized that the words of the song were worshipping the creation not the creator.
What kind of message were my children receiving with my choice of music?
The next day I found myself listening to some mellow music that fit my mood but the words were downright depressing and untrue when held in the light of scripture. Again, I gave thought to the spiritual state of my home and changed stations.
Some days it takes conscious thought to love the LORD with all my might. It doesn't come automatically with the sunrise.
It does come far more easily when we are reading the living Word every day. That is how God talks to us and teaches us.
How can we expect to know Him and live for Him if we don't spend time listening to Him?Each small choice I make has an impact on me and my home. My choices are a message to my children and to all who enter my home.
The common things of the home that represent our family and who we are fall to the home decorator and the home keeper. If your family is Christian then let His light shine through thoughtful choices in the common things of the home.
Blessings,
Kim Brenneman

Kim is the joyful wife of Matt and the blessed mother of nine children.

When not busy homeschooling and farmschooling, she enjoys writing, gardening, cooking, reading, sewing, and crafting.

Kim lives on a farm in Iowa where her family grows beef cattle, corn and beans, and operates a micro-dairy selling cheese at farmer's markets. She loves to write and speak about her passion for home and family. She is the author of Large Family Logistics: The Art and Science of Managing the Large Family. She blogs about the same subject at:
http://largefamilylogistics.blogspot.com.





If you'd like to leave a comment,
visit Time-Warp Wife on facebook:
Click here
And you can also find Kim on facebook too:
Large Family Logistics
If you would like to have Time-Warp Wife delivered to your inbox daily, simply click here: Subscribe to Time-Warp Wife
In participation with: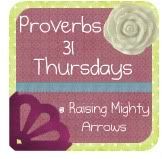 >